Keep Your Family Safe From Pests and Insects
24/7 Emergency Pest Control Services
Commercial & Domestic Pest Control Company Melbourne
Albazi Pest Control Melbourne can be relied upon to provide fast and effective services for both residential and commercial buildings throughout Melbourne. With the accreditations that you would expect from a reputable supplier, all our technicians are trained and certified assuring you of the highest, professional, quality Pest Control in Roxburgh Park, Broadmeadows, Donnybrook, Craigieburn, Glenroy and across Melbourne.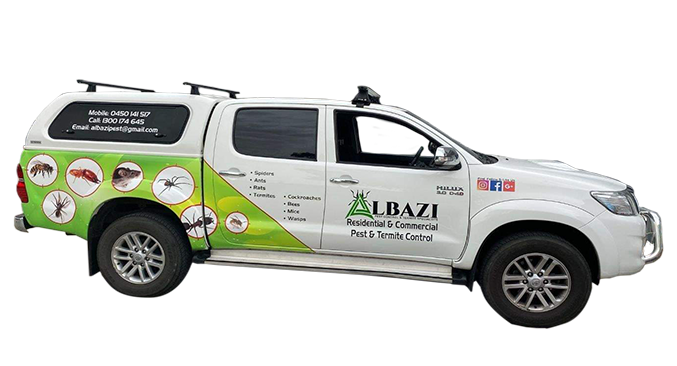 If you need our help immediately we are at your service day and night! Just call us!
What We Do
Albazi Pest Control is providing the highest standard of pest control Melbourne city services.
Before construction takes place it is a good time to have pest control and get your site inspected by professionals. Your home's termite management system (preconstruction termite barrier) is one of the most important steps in the building process when constructing your new home. The purpose of a termite management system is to deter hidden termite entry and reduce the risk of termite attacks.
At Albazi we deliver innovative, reliable and effective Sanitise solutions to your home or workplace to be safe and healthy. Our job is to keep your business and home free from viruses.
Our professionals at Albazi deliver innovative, reliable and effective pest management services to keep you focused on your business. Our job is to keep your business free from pests and insects.
Don't avoid the small expense upfront, as pest problems can cost you even more in the long run if you don't put preventive solutions for in place at the beginning of the project. If you need pest control for your construction site, then don't hesitate to give us a call.
We provide pest control treatments for all kinds of insects. Your family and your health can get severely affected when your home becomes a breeding ground for pests. They spread an array of infections and diseases. 
Why Choose Us
Let us now emphasize on the main benefits that customers will get by your company.
Eco Friendly

Environmentally safe techniques that deliver peace of mind.
Cost Effective Solutions

Competitive and affordable for any budget.
Free Home Inspection

Schedule a complimentary inspection of your Residential or Commercial place.
Licensed & Protected

We have great, professional and high-quality trained technicians.
Respectful & Proffesional

We treat your home as if it was our own. 
Fast & Reliable Service

We are the company for fast safe pest removal.

Schedule a Visit Pest Control Melbourne
Please contact us for all your pest and termites control enquiries.
WHAT IS PEST CONTROL?
Pest control is the regulation or management of a species defined as a pest, a member of the animal kingdom that impacts adversely on human activities. The human response depends on the importance of the damage done, and will range from tolerance, through deterrence and management, to attempts to completely eradicate the pest. Pest control measures may be performed as part of an integrated pest management strategy.
In agriculture, pests are kept at bay by cultural, chemical and biological means. Ploughing and cultivation of the soil before sowing reduces the pest burden and there is a modern trend to limit the use of pesticides as far as possible. This can be achieved by monitoring the crop, only applying insecticides when necessary, and by growing varieties and crops which are resistant to pests. Where possible, biological means are used, encouraging the natural enemies of the pests and introducing suitable predators or parasites.
In homes and urban environments, the pests are the rodents, birds, insects and other organisms that share the habitat with humans, and that feed on and spoil possessions. Control of these pests is attempted through exclusion, repulsion, physical removal or chemical means. Alternatively, various methods of biological control can be used including sterilisation programmes.
Complete Approach to Pest Control
We are here to resolve the most complex issue!
Pest Control Melbourne
Getting rid of unwanted pests is not an easy task. Also, being small in size, these creepy creatures have the potential to make your life unhealthy and terrible by creating a multitude of issues, ranging from food contamination to added costs, and in the case of blood-sucking bugs, then you know what will be the situation. We, at Albazi pest control in Roxburgh Park, Broadmeadows, Donnybrook, Craigieburn Melbourne, help preserve your place by eliminating the existence of these bugs and creepy pests from your premises. This is how we initiate professionally with the utmost dedication to make your place pest-free.
• We provide eco-friendly, smell-free, pet safe, plant safe pest control services
• Our full-service pest and termite control services in Melbourne are affordable, convenient, and guaranteed
• If you're searching for insecticides license holder pest control near Roxburgh Park, Broadmeadows, Donnybrook, Craigieburn Melbourne, you can count on Albazi pest control specialists
• We conduct a thorough inspection of your home and yard to ensure that any newly emerging pests do not re-infest the area
• We provide you with a fully customized program to treat and eliminate entry points and nests
Our team uses the latest pest control techniques and EPA-approved products for effective results, focusing on minimal damage to the environment, and your health, including your family members
We are committed to serving your home and business with environmentally safe services to pest control in Roxburgh Park, Broadmeadows, Donnybrook, Craigieburn Melbourne, keeping your family and employees' safety, their health, and well-being as our top and foremost priority. Our pest controllers guarantee the most effective results on just about any pest you'll find, inside and outside your property. We value your premise and never let invaders take it over in any condition.
Pest Control Craigieburn city issues are genuinely basic in practically all pieces of the world. They tend to harm our valuable property or spread ailments among the family. In this way, on the off chance that you have distinguished that you have bugs in your home, you should take some genuine activities. A few people accept that they can control it all alone. It might be consistent with a specific degree, yet you need proficient irritation control administrations to get a pest free house for quite a while.
In any case, it is significant that you just pick a dependable pest control Melbourne city organisation to get your ideal outcomes. In this way, on the off chance that you don't know which organisation should you pick, here is a concise guide:
• First of all, you should realize that an pest control Craigieburn city organisation must have an official permit to play out its exercises in a state. In this way, ensure the organisation you are employing is authoritatively authorized. In certain states, there is an arrangement for restoring the permit after a predefined timeframe. Along these lines, it is additionally significant that the permit of the nuisance control organisation is current and substantial.
Then again, ensure that the organisations you are employing have a repayment strategy. It implies that if any representative of the organisation makes any harm your property, you will get pay.
• Once you realize that pest control Melbourne city organisation you are picking is authorised, you have to get some information about their experience. There is just no substitution of experience. Get some information about their involvement with managing the vermin that you need to expel from your home. Additionally, get some information about the quantity of occupations they have finished effectively in managing the comparable bugs that lives in your home.
• Read the audits about various pest control Melbourne city organisations on the web. You can understand surveys and remarks about various organisations on sites and discussions on the web. Thus, you can ask your neighbours or loved ones about their proposals for picking a pest control Melbourne city organisation. On the off chance that they had a decent involvement in a specific organisation, you can call them for additional examination and talk about your bug issue in detail.
• Make sure the pest control Melbourne organisation  you are recruiting is sufficiently sure to offer you a 100% assurance on their work. In the event that an organisation is reluctant to ensure their work, it implies that they don't know about their presentation. In this way, consistently pick an organisation that is happy to offer you an unconditional promise.
In any case, you should keep their guidelines or you would in the end wind up voiding their guarantee. Pest control Melbourne city organisations have certain standards and guidelines in regards to their guarantee. For example, on the off chance that you have to bring any basic difference in your home, you should examine it with the organisation.
• Finally, ensure that the pest control Melbourne city organisation you enlist has a client agreeable assistance. The workers of the organisation must be sufficiently inviting to examine your interests and tune in to your issues. In the event that they are eager to hear you out, they will be in a superior situation to control bothers in your home.
In this way, these are a couple of the key focuses that would help you in picking the most ideal pest control services in Melbourne. Albazi Pest Control services Melbourne - Proudly protecting by providing quality Pest control service in Tullamarine, Roxburgh Park, Donnybrook, and Craigieburn and across Melbourne.
There are a great deal of pest control Melbourne city administrations, however, at Albazi Pest Control melbourne, we generally go the additional mile to guarantee that our regarded customers are completely fulfilled.