Keep Your Family Safe From Pests and Insects
24/7 Emergency Services
Have confidence rodent elimination contributions near you every minute of every day
Examination with capable tools

The service is absolutely cautious

Same-day, week's end and night availability
Capable and Discreet Rodent Control Melbourne Services
Rodents are extremely unnerving, no vulnerability about that. What's more, remembering that you ought to truly consider certain mice to be charming, a gigantic rat that is essentially moving about in your back nursery isn't a sight anyone will appreciate. Additionally, there are a lot of reasons why having a rat infiltration can be an immense issue to your home and family
Fundamental damage to your property

Rodents are known to nibble on electrical wiring and nursery.

Possible prosperity dangers

The transmission of dangerous diseases, eats and horribly vulnerable reactions.

Food pollution

Make an effort not to believe that the rodent will find a prevalent spot and just leave your home, book your rat removal organisation today with Albazi Pest Control!
Thus, on the off chance that you need to shield your family from the hazard, you can without much of a stretch and adequately do it with the assistance of an expert rodent control Melbourne service by Albazi Pest Control.
Need Help? Rodent Control Melbourne Experts are Waiting to Help You
Please contact us for all your pest and termite control enquiries.
Activities when your rodents evacuation organization
In the event that it's not all that much difficulty circumspectly cling to these headings
Empty any harmful substance or traps you've put yourself.

Empty any harmful substance or traps you've put yourself.

Clean up any additional food and don't leave any in the open.
Shield your nursery from clogging and don't let wreck or stacks of waste to gather.

Typically check for possible segment centers and square them.

Do not leave any bird food on the ground.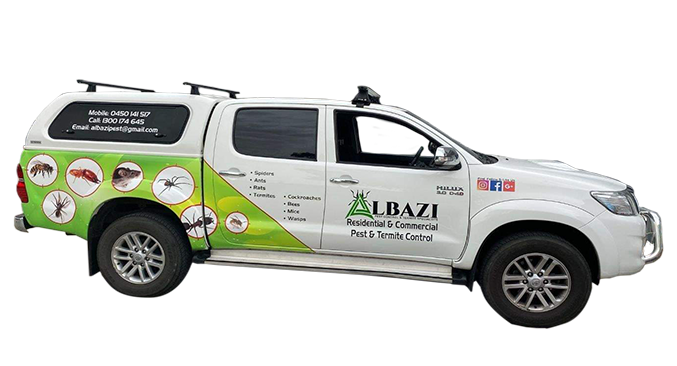 24/7 Emergency Services

Call Us: 1300 174 645
If you need our help immediately we are at your service day and night! Just call us!
Rodents Control in Melbourne
Having rodents along with rats and mice in your house can deliver with it stress and unwanted grief. The main types of Rats discovered in lots of houses in are the Roof Rat, Norway Rat and the common residence mouse. Although there are many more types of rodents these are the maximum common discovered in homes. They cause damage to your private home, spread sicknesses, chunk on cables, furniture, books and garments. If you have a rodent trouble it's miles high-quality sorted quick as they are able to quickly multiply and you could soon discover your self with a major infestation.
Signs you could have rodents in your home are.
Droppings around your property. Droppings are small dark and vibrant and come to be difficult after 3 days.
Rub marks, these are greasy smear marks left at the back of via rodents on walls with chronic impact. These seem as grimy greasy with rodent fur.
Burrows, are often gift close to buildings and gardens wherein rodents may be nesting.
Urine stains of Rodents can be seen beneath an ultraviolet light showing where there can be a serious problem.
Gnaw marks. Rodents want to constantly gnaw to hold their tooth down as such you could locate gnaw marks on woodwork, cables, food containers and furniture.
Disappearance of your food or containers of food which may additionally had been chewed thru.
Rodent manage
Rodent control Melbourne practice accurate sanitation strategies, keep kitchen and house smooth, hold meals in containers, do not depart puppy meals out, preserve bin vicinity's easy, trim branches far from roofs and gutters. Proofing your home against easy access for these rodents. Patch up any get entry to holes and preserve lawns and gardens easy. Do save any garbage in opposition to your home and make certain your packing containers are Rodent evidence.
Baiting
A completely effective remedy at doing away with and Rats or Mice from your property is with professional rodent baiting by means of licensed rodent control Melbourne companies. Those organizations can provide long lasting bait treatments. Those baits are incredibly palatable to the rodents and after they have taken the bait they die off right away. rodent control Melbourne agencies will deliver a lockable bait container for you to save you children and pets from having access to those baits as they might damage them if eaten by using them.
Baits should be place to your roof void as this is where Rodents have generally set up their domestic. Lockable bait containers have to also be positioned to your storage and round your lawn.
This can provide an extended lasting plan of assault towards those Rodents. It's miles great to check those boxes often and replace any baits that could were taken.
Following a lot of these pointers will help prevent and manipulate any Rodents in and around your house.